Making $1500 a Week: The Realities
There are a lot of good reasons why you might want to make $1500 a week from home.
For most people, a weekly income at that level can mean leaving their full-time (work away from home) job behind, allowing them to fully embrace all the perks working from home has to offer, such as:-
Perks of Working at Home
✔ Flexible working
✔ Reduced pressure of a corporate environment
✔ A reduction in fuel and other costs associated with commuting
✔ Potentially higher earnings
✔ The benefits of being closer to family
I have been working from home since March 2020 in my corporate job as a lawyer and now actually prefer it to being in the office.
But what does it take to make $1500 a week from home?
The problem is, a lot of the advice out there is dated.
Really dated!
Despite what many bloggers will claim, you're not going to make $1500 a week from babysitting or completing online surveys.
The truth is, to get to $1500 a week, involves considerably more than doing a few menial online tasks.
The reality is, in most cases, you need to treat your work-from-home venture as a business and to learn a lot of new skills.
That is unless you already have such skills or have an established business that you can operate from home.
There's usually a steep learning curve to build a business that makes $1500 a month, let alone a week.
The good news is that the internet has put making this kind of money easily within your grasp, and there's literally tons of information on the web that can get you there faster than you think.
It's not hyperbole to say that, with some dedication, you could be making $1500 a week within 12 months.
So with that in mind, I am going to cover 20 realistic ways you can make $1500 a week from home.

This post contains affiliate links meaning we may receive a commission for any products purchased via those links. For a list of our partners, please read our disclosure.
---
Work at Home Business Ideas to Make $1500+ per Week
Build a Niche Site
I truly believe that niche sites present the best online business opportunity today.
what are niche sites and how do they work?
Niche sites are websites containing content dedicated to a particular topic.
Some examples might include websites about:
Gardening tools
Drones
Credit repair
Pet snakes
Table tennis
As you can see, these are all fairly narrow topics.
The idea is to create a website with articles covering your chosen niche in detail, with a view to providing information to people who are searching these topics on Google and other search engines.
For example, on a site about snakes, a person might search on Google for information on "how snakes shed their skin" or "what is the best diet for a snake".
Hopefully, when that person searches for the answer to those questions, they arrive on your website on the article you've written answering that question.
The aim is to attract a lot of readers to your articles which you can then monetize.
The key is to create an encyclopedia of content where you become an ultimate resource for your chosen niche.
The formula is simple:
Create a website > write good articles answering questions people are searching for > get traffic from Google > monetize that traffic.
How to monetize a niche site
My favorite ways of making money with niche sites are with display adverts and affiliate marketing.
Display Ads
With display ads, a company like Ezoic or Mediavine (this is who I use), will place ads on your website and you will earn income when people who visit your site see those ads.
Generally speaking, the more people who land on your site and see your ads, the more money you will earn.
The amount of money you earn from ads depends on the niche and also other metrics like the location of your readers.
Typically you can expect to earn around $15 – $35 per 1000 visitors to your site.
I love this method of monetization because it's completely passive. You create the content, attract readership and let the ad earnings roll in.
Affiliate Marketing
Affiliate marketing is where you promote another person's or company's product in return for a commission.
For example, on a weight loss niche site, you might review a weight loss pill or a weight loss course.
A visitor comes to your website, reads your article on that product, clicks your affiliate link, purchases that product and you get your lovely commission.
There are a few other ways you can monetize a niche site, for example by creating information products like a course or e-book.
However, affiliate marketing and ads are the most passive ways to make cash with niche sites.
can niche sites make $1500 a week?
How much you can make with your site will generally depend on how many visitors you attract.
A very rough guide is around $1000 for every 30,000 visitors.
However, some niche sites make a lot more than that. Some a lot less.
The more readers you can attract, the more money you'll generally make, especially when it comes to ads.
To give you an idea, here are some of my favorite niche site builders and their earnings:
Earnings and Resources
Jon Dykstra – Fatstacks blog and numerous niche sites = $100,000 per month
Morten Storgaard –Passive Income Geek and numerous niche sites = $50,000+ per month
Jim and Ricky – Income School and numerous niche sites = $100,000+ per monthy
I mean, is there any wonder I think this is the best online opportunity out there?
Making $1500 a week won't happen overnight but it is definitely achievable within 12 – 24 months with the right mindset and by treating your niche site like a business.
If this interests you, then watch the above guys' YouTube channels and read their blogs. They will teach you all you need to know to make niche sites work for you.
If you need to know how to set up a niche site, then check out my ultimate guide which will show you how to get your website up and running.
---
Freelance Writer
One of the most accessible work-from-home opportunities is to become a freelance writer.
If you have at least half-decent writing skills, then there is a huge demand for freelance writers out there.
There are now over 600 million blogs on the internet. This creates a massive demand for content writers.
There are of course other more traditional freelance writing gigs like writing for newspapers or magazines but the online opportunities are immense.
One of the biggest attractions to freelance writing is that you can start almost straight away. This is especially so if you're already a competent writer.
where to get writing gigs
Touting for freelance writing gigs is easy to do thanks to the internet.
Sign up to any of these websites and you can be putting your services in front of people within minutes:-
Fivver
Pro Blogger job board
Constant Content
Upwork
Linkedin
Fivver and Upwork are probably the most straightforward platforms to get started but they do take a cut of your earnings so you need to ensure your services are priced appropriately to cover this.
The Pro Blogger job board is a great place to find more bespoke and high-paying writing gigs, although you'll need to be a fairly good writer to secure work there.
I love this opportunity because you don't need to be the best writer in the world to succeed.
A lot of people think you need to be a Pulitzer prize-winning novelist to do well, but this is simply not the case.
Provided you can write to a reasonable standard, you should still be able to secure gigs.
The more writing you do, the better you become so you can improve your skills and your earnings as you go.
Can you earn $1500 a week as a freelance writer?
Like most things, your earnings will generally depend on experience and the number of clients you can attract.
I have employed freelance writers in the past and I typically pay around $30 – $60 per 1000 words.
However, if you are writing about a very specialist topic, then you can charge a lot more than that.
With experience, you can easily make up to and beyond $300 a day which will get you to your $1500 a week target working a 5 day week.
---
Become a Proofreader
As a proofreader, you'll be scanning through written documents looking for various errors.
Your job is to identify any spelling, grammatical, formatting, or other mistakes.
You are that second, all-important set of eyes to ensure that the written document you're reviewing isn't being published strewn with glaring errors.
This is another extremely accessible online gig as you don't need any special qualifications to succeed at it.
How to become a proofreader to earn $1500 a week
There are hundreds of resources out there but my preferred course to become a proofreader is Proofread Anywhere by proofreading guru, Caitlin Pyle.
Caitlin set up her own freelance business and was earning over $40k in her first year of doing so. She was also working part-time originally.
She then set up her own proofreading course which can show you:
What proofreading is and how to do it effectively
How to operate a proofreading business
How you can find clients and expand your business
How to make yourself
The Proofread Anywhere course includes a 76-minute workshop so you can get a feel for what it's all about and whether you like it.
How much Can you earn Proofreading?
According to salary.com the median annual earnings for a proofreader was $52,486 as of this year but you can earn more than that with experience.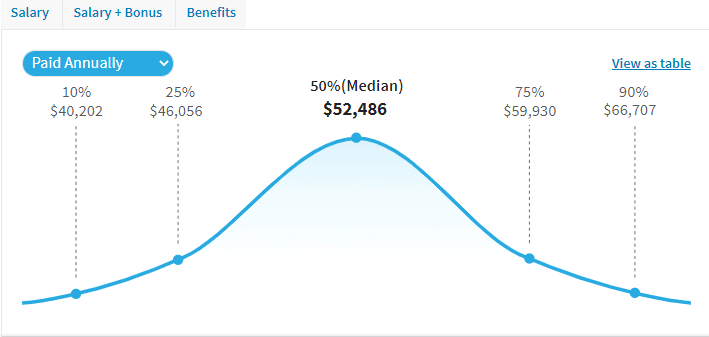 With an ambitious strategy and experience, there's nothing to stop you from getting to that $1500 a week target, especially if you're willing to work additional hours.
In fact, Caitlin's proofreading business now makes over $3m a year.
---
Become a Virtual Assistant
As a virtual assistant, you'll be hired by websites and other business owners to complete tasks remotely.
This can be tasks such as:
Doing email outreach and marketing
Managing social media accounts (i.e. making pins for Pinterest or creating ads for Facebook)
Responding to emails
Managing an email list
Preparing newsletters
Editing and formatting blog posts
Doing market research
This is another extremely accessible work from job that doesn't require any specialist qualifications.
If you have some IT experience and skills and are familiar with social media platforms, then you will definitely have a leg up on others, but these skills can be learned.
How do I become a VA to earn $1500 a week?
I have found that learning online jobs can be done so much faster with appropriate guidance and the correct advice.
Online courses, when done well, can cut your learning time down by years in my experience.
I prefer Gina Horkey's VA course to any others I have explored. Amazingly, her introductory course costs only $19 through my link.
Her course teaches you the main things you need to learn to become a VA and also how to run a lucrative VA business.
Here's what one of her students said: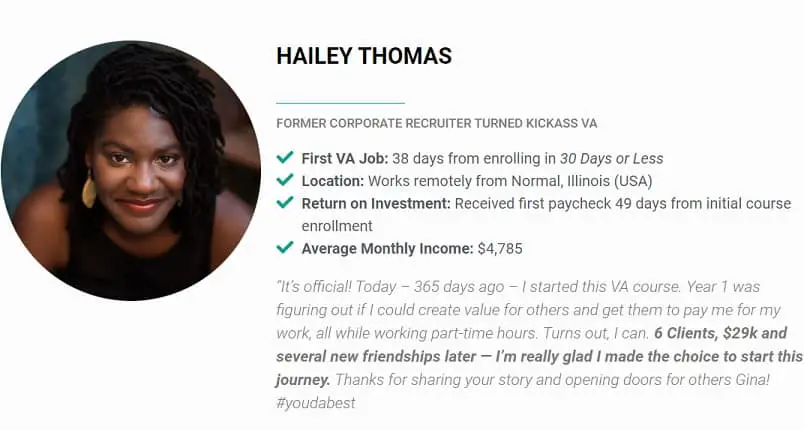 Gina earned $4000 a month in her first year as a VA which is roughly in keeping with the above example.
This is just a beginner's income and it's easy to see how within a few years you can be earning well in excess of $1500 a week when you build up a client base.
---
Start a Blog
Blogging is still an extremely lucrative venture when done right.
You can expect to easily surpass your $1500 a month target if your blog takes off.
Blogging is also a super cheap business to run. It doesn't involve thousands of dollars of capital like most businesses and can start making money almost straight out the blocks.
what to blog about to make $1500 a week?
One of the main reasons people struggle with their blogs is because they write about what they think people want to read about, instead of focusing on what they actually want to read about.
Let me explain.
Essentially, no one really wants to know what you did last summer for your vacation or where you're planning to spend Christmas.
Sorry to break it to you, but unless you're a well-known celebrity, no one really cares about your life.
People want to know things that are going to improve their own lives. They want questions answered and their problems solved.
That's why it's so important to focus on your reader, rather than simply blogging aimlessly about yourself.
A money-making blog is a useful resource and should provide a wealth of information about your chosen niche.
Below is a list of some broad topics that I know do well. However, these are fairly competitive niches with a lot of authority websites already claiming the first pages of Google for a lot of keywords and topics in those areas.
A good tip to compete with big authority websites is to "niche down" within your chosen niche. This means becoming an expert in one particular area of a niche.
For example, instead of blogging about world travel, you could niche down and focus on a particular city such as Montreal or San Diego.
Instead of focusing on the general topic of fashion, you could focus on fashion for men of a larger frame or fashionable business wear for women.
Google likes to rank web pages on a particular topic from websites that specialize in that topic. In time, this means smaller less authoritative websites that are more focused can out rank larger less focused ones.
Here's the list of a few broad niches that do well:-
Dieting
Personal finance
Pets
Home schooling
Gardening
Home decor
Fashion
Health and beauty
Self improvement
Can bloggers make $1500 a week?
Bloggers can make $1500 a week and many do.
In fact, many bloggers make well in excess of $1500 a week.
Here are some bloggers that make well in excess of $1500:
Debbie Gartner – theflooringgirl.com – $30,000 a month
Rosemarie Groner – busybudgeter.com – $100,000 a month
Ryan Robinson – Ryrob.com – $40,000 a month
It's not unreasonable to start making $1500 a week within your first 2 years of blogging if you get it right. Some do it in an even shorter timeframe.
The main ways for blogs to make money are as follows:-
Display adverts – those annoying ads that pop up when you're trying to read a website
Affiliate marketing – promoting another person's or company's product in exchange for a comission
Sponsored posts – getting paid to write about certain products or services
Selling products – You might make and sell an e-book, a course or an audio product
how to Set up a blog to make $1500 a week
Blogging Platform
There are several well know blogging platforms out there that you've probably heard of, such as Wix, Weebly, and Squarespace.
However, if you are serious about starting a blog, then you should seriously look no further than WordPress.org (do not confuse with WordPress.com which is different).
WordPress.org is a platform where you can build a blog that you will own. With sites like Wix, you don't actually own your website so technically they can close your website down at their discretion and you can't do much about it.
WordPress takes a bit of learning at the beginning but it is easily the most powerful and versatile tool to use.
My tip is to not even consider using anything but WordPress as you will only regret it later.
Hosting
To kick start your blog on WordPress you need hosting. This is where the files for your blog live.
You can purchase hosting with BlueHost for just $3.95 per month with my special link and they offer a 30-day money-back guarantee for peace of mind.
---
Sell an Online Course
Designing, constructing, and selling a course is an extremely lucrative online venture that anyone can do.
Online courses are hugely popular and the global e-learning market was estimated to be worth $144 billion in 2019 and is expected to grow to over $300 billion by 2026.
Online courses can be made about literally anything as people love learning online.
Some course ideas might be:-
Teaching how to play the guitar;
Teaching a foreign language;
Showing people how to make a successful and profitable blog;
How to produce music;
Learning computer programming.
Courses can be offered in a number of different formats such as audio courses, e-books, video courses and step-by-step guides.
My favorite course building platforms are:-
Teachable – Awesome for step-by-step tutorials and video content
Thinkific – Similar to teachable with a rich array of multimedia content to build your course with
Udemy – Great for creating video courses in a lecture-type format
Many online marketers who have previously succeeded online, sell courses that can teach you how to run all types of successful online businesses.
Here are a few examples of people who have made 1000's dollars selling their online courses:-
Alex and Lauren, creator of Create and Go and Avocadu – Sell blogging courses making $100k+ per month
Michelle Gardner, creator of MakingSenseofCents – Sells affiliate marketing course making $50k+ per month
Jon Dykstra, creator of multiple niche sites – Sells numerous SEO and blogging courses making $50k+ per month
---
Fast Ways to Make $1500+ per Week
💡 Some of these you may need to combine to get to your $1500 target. Provided you're prepared to put the time and effort in, then $1500 should be achievable.
Do Focus Groups
Focus groups can be an excellent way of earning some quick cash. They can also pay pretty well if you can get on the right ones.
Focus groups are essentially where companies bring people together to carry out market research and pay those people for their time.
For example, if a cosmetic company is selling a new eyeliner, they might ask people to try it out or answer a survey about it to gain insight before it hits the marketplace.
Other focus groups are more boring.
For example, you might join one where you are surveyed about politics, current events or something that might not mean that much to you but the information is extremely important to the company doing the research.
Focus groups can pay anything up to $500 per study so it's easy to see how you can get your $1500 target fairly quickly.
Here are some of my go-to focus groups:-
---
Wrap Your Car
Car wrapping is a completely passive way of making some extra cash.
You simply let a company wrap your car in advertising and they pay you, normally depending on the number of miles you travel and the size of the ads on your car.
This may not suit everyone, especially if you're a bit of a petrolhead and love the look of your car, but it's harder to think of a more carefree and passive side earner.
Some companies will pay you up to $1200 per campaign.
Here are some companies to check out:-
---
Do Odd Jobs
The gig economy continues to boom and is only going to get bigger in the future.
In fact, the global gig economy will be worth $350 billion dollars in 2021.
Lending your hand to small gigs can be a great way to supplement your income and can be a full-time job.
These gigs or odd jobs can be done online with just a computer or can be more practical where you're out on the road visiting customers and clients.
You might be doing things like:-
Data entry
Preparing transcripts
Writing
Testing products or services
Completing surveys
Delivering groceries
Building furniture
Doing DIY jobs
Resources
SwagBucks – Play games, take surveys, browse websites and review products for cash
Instacart – Purchase and deliver groceries for people
Task Rabbit – Build furniture, do gardening and DIY for people in exchange for cash
Fivver – Sell your web design skills, language skills, write blogs, create voice overs etc…
Amazon Mechanical Turk – Do microtasks for companies like data entry, surveys and prepare transcripts
Flex Jobs – Offer out freelance skills like proofreading, transcription, writing and data entry





---
Flip Goods
Flipping goods is the idea of buying things at a bargain and selling them for a profit.
Sometimes a huge profit if you can score the right deal!
Take Rob and Mel for example; they created a fully-fledged flipping business after discovering they could make huge returns flipping stuff they found on sites like eBay, at garage sales, and at junk shops.
They were so good at it that they were making $100k plus in their spare time and later went on to quit their jobs.
They now teach others through their Flea Market Flipper course.
---
Walk Dogs With Rover
Rover is a great app for dog lovers out there.
You can download the app and offer your dog walking services to other users in your local area and earn up to $20 per hour for your troubles.
Whilst it is difficult to make $1500 a week with Rover (you'll probably not get beyond $1800 a month), if you combine it with other suggestions on this page then you can certainly get a good way there.
---
Make and Sell Printables
Selling printables can be a hugely profitable enterprise.
Printables are essentially just pieces of artwork that you can make and sell for people to download digitally.
If you've got a knack for designing and making artwork, making printables should not be overlooked
Printables come in all different varieties such as such:-
Calendars
Checklists
Greetings cards
Greetings tags
Bachelor/bachelorette party games
Organization prints
The best way to sell printables is on Etsy.
Etsy has a huge audience for you to target and it couldn't be easier to get a printable business set up using their platform.
Printables can be big business and it's not unusual to make $1500 a week plus selling them once you're established.
---
Other Ways to Make $1500 a week
Here are some of my other favorite ways to make $1500 a week:-
---
How Much is $1500 Per Week as a Yearly Salary?
As a yearly amount, $1500 per week equates to $78,000.
This is way above the US average yearly salary.
---
Is $1500 a Week a Good Income?
The US Census Bureau records that the yearly median personal income is $35,977.
Therefore, if you can generate $78,000 per year, you are earning more than double the median US income.
So the answer is a resounding yes!
$1500 a week or $6000 per month is a great income!
---
Conclusion
So there you have it, there are now many opportunities to explore if you want to make $1500 a week.
Whilst it is quite difficult to make this kind of weekly income, it's certainly not impossible and with the correct mindset, it can be achieved quicker than you might think.
If I was going to set up a business tomorrow to make $1500 a week, I would definitely look to start a niche site.
Niche sites are so cheap to run and anyone can learn to build them.
There are tons of resources online to get you started and they are actually very fun to construct as well as extremely rewarding when done right.
---